Quarry Chute Design, Manufacture and Fit
AJ Specialist's latest turnkey project was to design, manufacture, fit wear liners, deliver and install a chute for Croft Quarry. From concept to installation took 10 weeks in total.
The scope of works was to allow material from a mobile crusher to feed directly into the existing crash box after the primary crusher was removed. A new protection plug to allow access to work in the existing crash after the chute was fitted, was also manufactured. Safety fencing to restrict access into the existing building from the upper level, two intermediate levels, and ground level.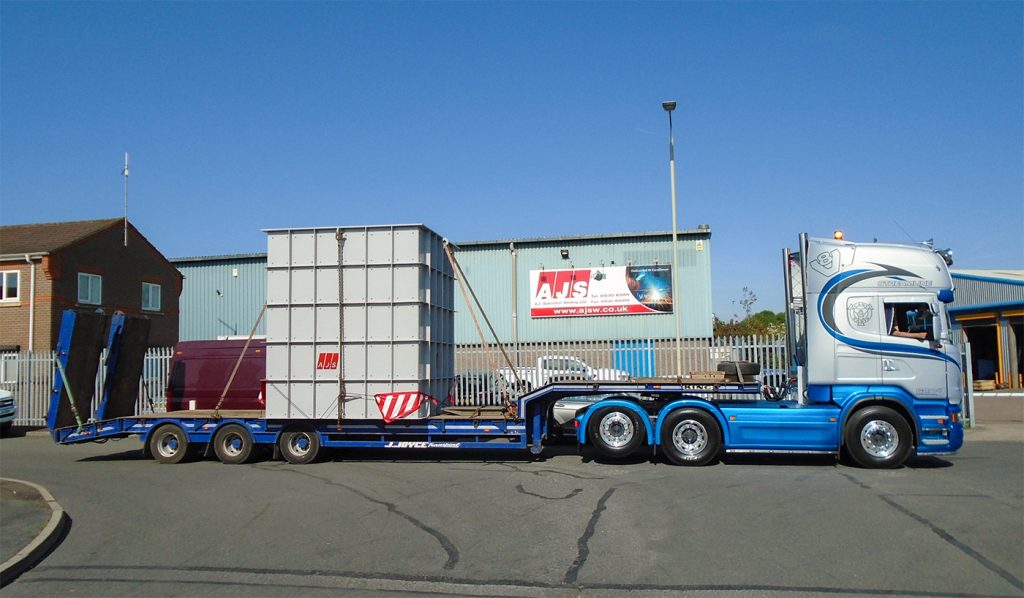 Chute specifications: 10 mm mild steel plate and lined with 10 mm 400 plate
It involved a receiving chute of 3 m x 3 m approximately, supplied in two sections of 3.1 m, discharging roughly 1 m below the 15.3 m floor level. All were supported from structural steel beams located on the above level. Open areas were sealed with Abro plate work with strengthening beams below. 50mm square bars were fitted to the sealing plates to encourage the formation boxes. Quarry chute assembly was constructed from a 10 mm mild steel plate and lined with a 10 mm 400 plate. The liners were then bolted in position and of a a weight that allows their removal by a single operative.
750 tonnes per hour throughput of 450 mm crushed granite
Suspension points were included below the structural steel beams and fitted to the lower section to allow the upper section to be removed independently. All were adequately stiffened with bolted flanges to allow for maintenance and removal. Throughput is 750 tonnes per hour of -450 mm crushed granite.
The plug used was approximately 1.7 m x 1.5 m x .6 m deep with taper sides, supplied with venting holes in the top section. All were constructed using an 8 mm mild steel plate with lifting lugs to allow positioning.
Bespoke Manufactured Mild Steel Safety Fencing
The safety fencing was constructed from mild steel rolled steel angles with .050 m x .050 m welded mesh inserts, with a height of 2 m, all suitable for site fixing. Constructed such that their removal requires tooling and of a weight that can be supported by a single operative, all galvanised.
All painted in one coat primer and one coat finished colour.